Invasion of the Evil Platypus Clones /Night of the Giant Floating Baby Head
A Read-Along eBook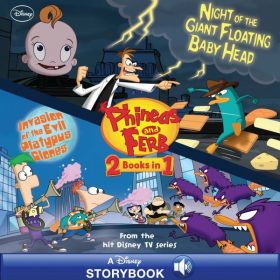 Read along with Disney!
Enjoy this two-in-one Halloween-themed book starring Phineas, Ferb, and Perry the Platypus!
Will the boys and their friends be able to save Danville after accidentally creating evil platypus clones?  Then, just when they think they're safe, Dr. Doofenshmirtz tries to overtake the city by catching the giant floating baby head and receiving three wishes of his choosing!
Will Agent P come to the rescue before it's too late? Follow along with the word for word narration to find out!
Released

Pages

ISBN

Age Range