Minnie & Daisy Best Friends Forever: Lost in the Museum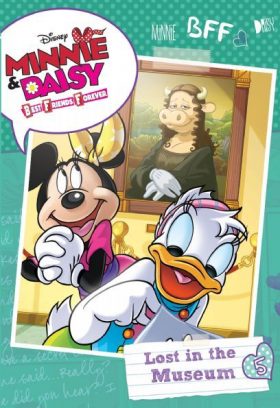 Minnie and Daisy's class is going on a field trip to the Moushattan Museum of History.  Minnie is really excited because she loves art and history; Daisy thinks it's going to be a snoozefest.  When they get to the museum, their history teacher announces that the students will be doing a scavenger hunt.  They have a list of questions to solve, and the answers can be found in the museum's exhibits.  The first team to finish with correct answers will get extra credit toward their history grade!
The hunt is going fine, until Daisy suggests that she and Minnie split up.  She thinks they can divide and conquer, and she really wants to win because her history grade is suffering.  Minnie sets off in search of a famous painting and Daisy heads out to the Bumblebeegypt room.  They are supposed to meet back at the lobby, but when Daisy doesn't show up, Minnie is worried.
Is Daisy lost?  Will she get back in time–and with the correct answer–so they can win the scavenger hunt?
Released

Pages

ISBN

Age Range

Illustrated By