Alice's Wonderland Bakery: Meet Alice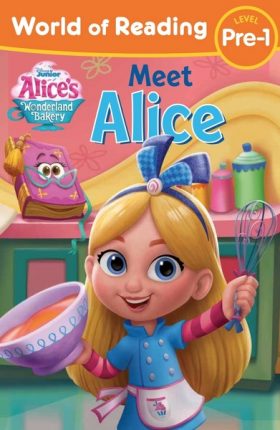 Meet Alice, the great-granddaughter of the original Alice in Wonderland, and her diverse community of Wonderland friends in this 32-page Level Pre-1 World of Reading book. 

With a sprinkle of creativity, a dash of curiosity, and a can-do attitude, Alice is ready to confront any kitchen challenge, from catering a mad tea party to baking an unbirthday cake for the Queen of Hearts. Her friends Dad Hatter and his son Hattie, Fergie the White Rabbit, Alice's pet cat Dinah, and the not-evil-Queen of Hearts and her daughter Princess Rosa, who are of Latino heritage, make her world fun and filled with friendship.
This book is part of Disney's World of Reading series, which provides emerging readers with books that inspire and excite them, featuring characters they love. Each level is designed to help readers navigate the wonderful world of reading at just the right pace.
Released

Pages

ISBN

Age Range