Little Kids First Big Book of Sports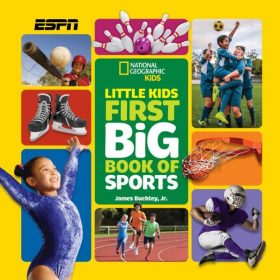 CLIMB, DIVE, SKATE, AND RACE into the wide world of sports! This lively reference book, co-branded with ESPN, introduces young readers to a variety of sports from across the globe and explores how they are played.
Whether a sport needs a ball or a stick, a pool or a field, a racquet or a ski pole, young readers can explore each sport's history and the rules and skills that make that sport unique. From basketball to soccer, lacrosse to cricket, archery to diving, bowling to skateboarding, snowboarding to playground games, this lively reference book covers a variety of team and individual sports. Special sections look at the Olympic and Paralympic Games.
Whether you're interested in team sports, solo sports, or watching from the stands, this book has something for everyone. Let's play! 
Released

Pages

ISBN

Age Range