Spidey Saves the Day
World of Reading, Level Pre-1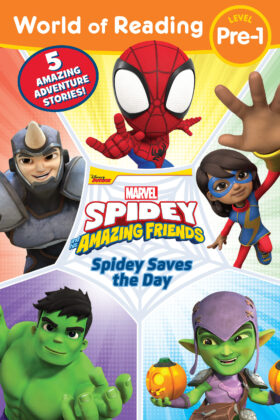 Who's that swinging through the sky? It's Spidey and His Amazing Friends!
Join your favorite superheroes Peter Parker, Miles Morales, and Ghost-Spider as they team up with heroes like Hulk and Ms. Marvel to battle villains like Green Goblin and Doc Ock.
Explore the World of Reading
Disney's World of Reading series provides emerging readers with books that inspire and excite them, featuring characters they love. Each level is designed to help readers navigate the wonderful world of reading at just the right pace.
Complete your Marvel collection with best-selling fan favorites:
World of Reading: Spidey and His Amazing Friends: Super Hero Hiccups
5-Minute Spider-Man Stories
5-Minute Marvel Stories
World of Reading: This is Miles Morales
World of Reading: Five Super Hero Stories!
Snow Day for Groot!
Marvel Storybook Collection
Released

Pages

ISBN

Age Range