Captain Aquatica's Awesome Ocean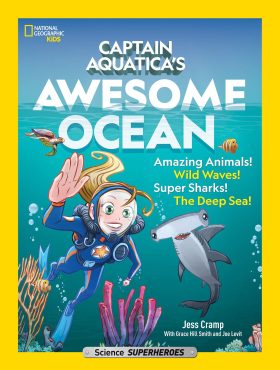 Take to the seas with marine conservationist and shark researcher Captain Aquatica and her hammerhead shark sidekick, Fin, to explore the ocean's wettest and wildest depths and get the latest facts from the field!
Scientist Jessica Cramp illuminates her work studying sharks and protecting our amazing ocean with in-depth scientific info and comic-book flair. Cramp's conversational and witty explanations will make kids want to dive right in. Colorful side stories in graphic novel-style feature Cramp as character Captain Aquatica, with her sidekick shark, Fin. Together they help make big concepts accessible and interesting to kids of all levels. Amazing photography and cool content draw kids into the subject and story, attracting STEM fanatics and reluctant readers alike.
Released

Pages

ISBN

Age Range