Ink! (L3): 100 Fun Facts About Octopuses, Squid, and More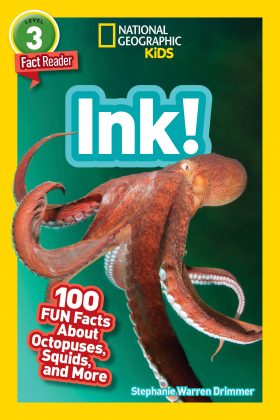 Meet cuttlefish that can camouflage themselves, octopuses that outsmart their predators, and squid that patrol the deep in this cool fact-filled reader.
Learn everything you've ever wanted to know about cephalopods, from inking, to hunting, to coconut carrying. Squish along with squid, camouflage with cuttlefish, and marvel at magnificent octopuses. Packed with weird-but-true facts and tons of cool animal info, this Level 3 Reader explores the incredible world of cephalopods.
National Geographic Fact Readers feature the same expert-vetted running text as traditional readers–with a bonus of 100 fun facts sprinkled throughout! A fact roundup at the end of each book lets kids review what they've learned. (Plus, they can impress their friends with their animal expertise!)
Released

Pages

ISBN

Age Range