We are so excited to see all of you in Houston next week!
Please come visit us at our Disney Book Group booth (#412) to get books signed by our amazing authors, pick up galleys and fun book-related swag, and visit with a certain bear-y special guest! See below for the full in-booth singing schedule.
Our authors are also participating in all kinds of thought-provoking panels throughout the weekend. Be sure to check out the NCTE program for info on where you can see them speak.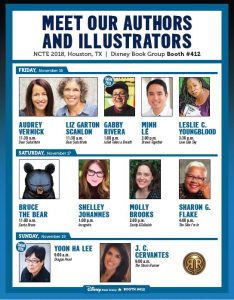 If you would like to download a copy of the schedule to print, you can find it here: NCTE signing schedule