We celebrate the diverse stories and storytellers from Asian American, Native Hawaiian, and Pacific Islander communities during AANHPI Heritage Month, and all year round. You can find these titles and more in our AANHPI-focused catalogs: Celebrating Asian and Pacific Islander Storytellers and Celebrating Asian and Pacific Islander Stories.
LIKE MOTHER, LIKE DAUGHTER by Natasha Yim and illustrated by Steph Lew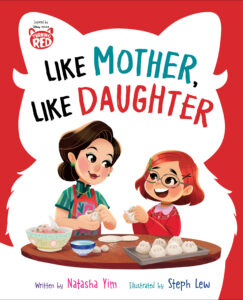 This beautiful and charming picture book expands the world of Disney and Pixar's Turning Red. Ming and Meilin are the perfect mother and daughter. They work as a team, and each always seems to know what the other is thinking. But one day, something shocking happens: Mei poofs into a red panda! Now this once perfect pair has a huge panda problem!
THE REAL R.P.G.: THE STORY OF THE RED PANDA GIRL by Lily Quan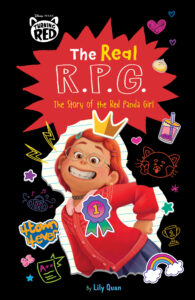 Based on Disney and Pixar's film Turning Red, this middle grade novel explores the crazy, amazing, and often-times hilarious experiences of thirteen-year-old Meilin Lee. Meilin Lee started out like any other thirteen-year-old: hanging out with her friends, dealing with middle school, and helping her family. You know, normal stuff. Then one day . . . POOF! Suddenly, she was a GIANT. RED. PANDA. She thought her life was over, but it turned out only to be the beginning.
PAHUA AND THE SOUL STEALER by Lori M. Lee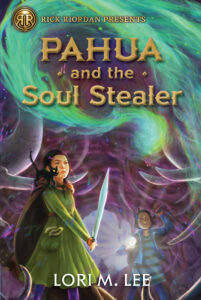 While trying to rescue her brother's soul from the spirit world, eleven-year-old Pahua Moua discovers that she is a powerful shaman warrior in this middle grade novel based on Hmong mythology.
Educator's guide for Pahua and the Soul Stealer.
TIGER HONOR by Yoon Ha Lee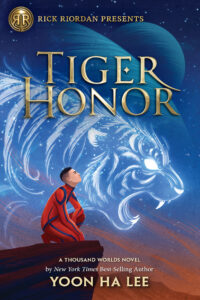 Best-selling author Rick Riordan presents Yoon Ha Lee's companion to the best-selling and award-winning Dragon Pearl, another space opera inspired by Korean mythology, this time told from the point of view of a nonbinary tiger spirit, Sebin.
Educator's guide for the Thousand Worlds series. 
ARU SHAH AND THE NECTAR OF IMMORTALITY by Roshani Chokshi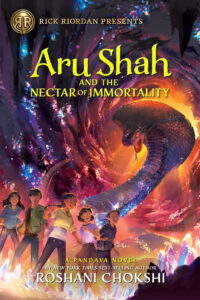 Best-selling author Rick Riordan presents the breathtaking conclusion to Roshani Chokshi's New York Times best-selling Pandava quintet. Will the Sleeper gain immortality or be stopped once and for all? More surprises and delights, gods and demons, and laughs and tears await in this immensely satisfying conclusion to the wild ride that began with the lighting of a lamp.
Educator's guide for the Pandava series. 
SHINJI TAKAHASHI AND THE MARK OF THE COATL by Julie Kagawa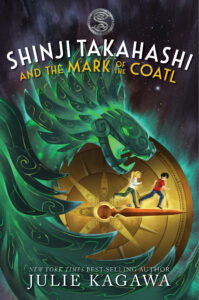 Shinji Takahashi is just an ordinary kid. An ordinary homeschooled smart-alecky kid being raised by his globe-trotting aunt Yui. But when a magical guardian decides to use him as a conduit to awaken its power, Shinji's life takes a turn for the anything-but-ordinary.
THE LAST FALLEN MOON by Graci Kim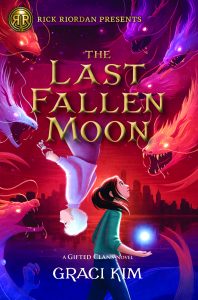 Best-selling author Rick Riordan presents the second book in Graci Kim's magical and mysterious Gifted Clans trilogy, a warm-hearted, action-packed adventure inspired by Korean mythology.
Educator's guide for the Gifted Clans series. 
IN EVERY GENERATION by Kendare Blake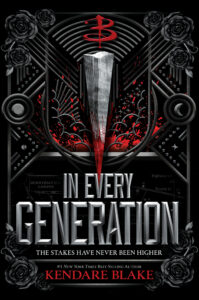 The first book in a brand-new YA series set in the world of Buffy the Vampire Slayer. When all of the existing slayers fall victim to a mysterious attack, Frankie Rosenberg, daughter of Willow, discovers she is a slayer, and takes up the mantle to protect New Sunnydale. Despite the many challenges standing in her way, Frankie must assemble her own bumbling Scooby Gang, get dressed up in Buffy's (vintage '90s) clothes, and become a new slayer for a new generation—before whatever came for the rest of the slayers comes for her next.
ALONE OUT HERE by Riley Redgate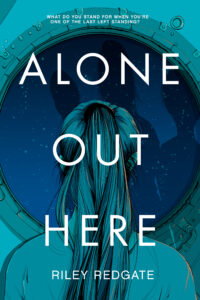 Alone Out Here is a poignant, heart-pounding survival story that imagines a near future where the climate collapses, causing the apocalypse to hit months ahead of schedule. Only fifty teenagers, including First Daughter Leigh Chen, escape Earth on a spaceship with the last hope of preserving humanity, but can they work together to reach safety?
ONCE UPON A K-PROM by Kat Cho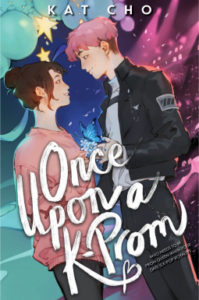 What would you do if the world's biggest K-pop superstar asked you to prom? Elena Soo, high-school junior and prom skeptic, is about to find out. Perfect for fans of Jenny Han and Sandhya Menon, this hilarious and heartfelt novel combines the glamour and drama of the K-pop world with relatable teen issues and a swoon-worthy love story.
THE QUEEN'S COUNCIL: FEATHER AND FLAME by Livia Blackburne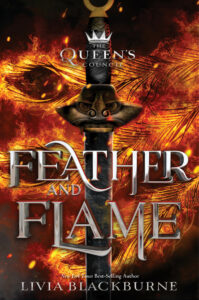 Happily ever after is only the beginning in this YA series that reimagines the Disney princesses as young rulers of their lands, aided by a mystical group of women called the Queen's Council. 206 BCE-900 CE China during the Han and Tang Dynasties: Before his death, the aging Emperor decreed that Mulan would take the throne, having shown what it takes to be a leader. When he dies, she becomes the Warrior Empress, leader of her people and her army as they fight to keep power from falling into the hands of enemies.