For the first time in its 110 year history, NCTE is going virtual. While we will be sad to miss seeing you all in person, we are so excited to still have this opportunity to connect.
Visit the Disney Publishing Worldwide virtual booth for a look at our recent and upcoming releases, grab some e-galleys, and download teacher's guides and reproducible activity sheets to use in the classroom.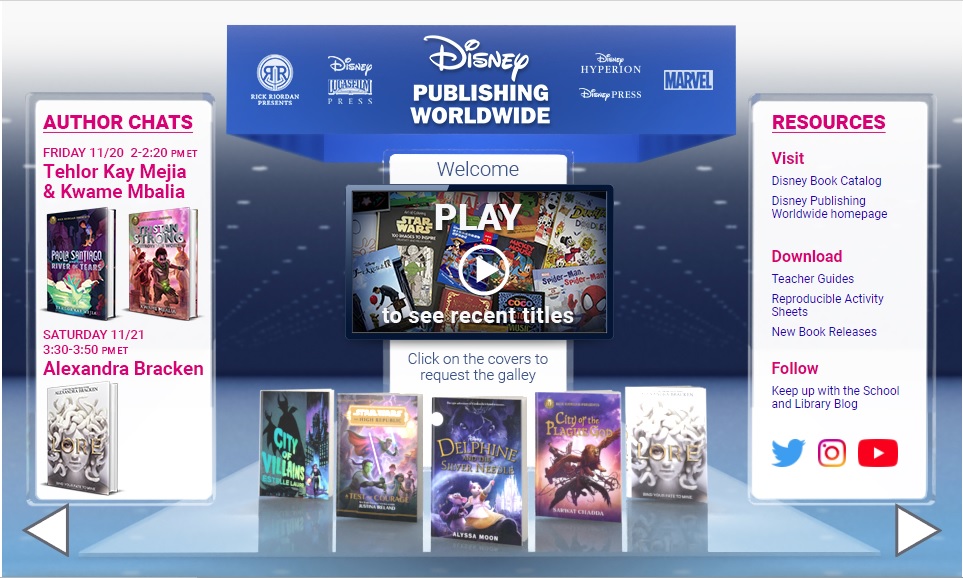 We will also be hosting two in-booth author chats during the conference, so please stop by to connect with the authors, and ask them any questions you might have about their books or their writing process. The first is on Friday, November 20, from 2:00-2:20pm ET, with Tehlor Kay Mejia, author of Paola Santiago and the River of Tears, and Kwame Mbalia, author of Tristan Strong Destroys the World. The second chat is on Saturday, November 21, from 3:30-3:50pm ET, with Alexandra Bracken, author of The Darkest Minds series and the upcoming YA novel, Lore.
Also, look for our authors in the On Demand panels, which attendees can watch at any time during the conference. Picture book author and illustrator Ryan T. Higgins (We Will Rock Our Classmates) participated in the roundtable discussion for "How Pictures and Words Come Together," and Kwame Mbalia participated in the panel "A Confluence of Readers and Writers: Connecting Students and Authors."
We also participated in a Book Buzz that is scheduled for Friday, November 20, from 4:30-5:45pm ET. We will present an overview of our most anticipated titles for Winter/Spring 2021, along with several other publishers.
The school and library team will be in the booth during the exhibit hall hours, so feel free to stop by and ask us questions, or just say hi.