Always Ireland
An Insider's Tour of the Emerald Isle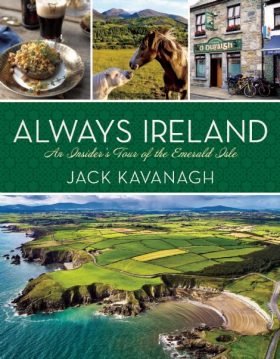 This alluring travel guide from National Geographic, covering every county of the Emerald Isle, offers the ultimate insider's tour of Ireland's most iconic places, from the literary pubs of Dublin to the Cliffs of Moher. 
From the emerald green coastal cliffs to centuries-old castles, hole-in-the-wall pubs to world-renowned distilleries, this richly illustrated narrative showcases Ireland's best sights, bites, and experiences. Written by a renowned expert in all things Eire, this book celebrates the multilayered beauty of the landscape, shines a light on the the country's innovative traditions, and reveals the robust nightlife across a variety of picturesque cities. More than 300 glorious National Geographic images, along with recommended itineraries, practical tips, and insightful histories, populate  these informative and inspiring pages.
Organized by region, Always Ireland will allow you to map your way through the country's well-known places and hidden treasures alike, featuring must-do experiences, scenic destinations, and expert advice on where to stay, what to eat, and what to do. Each section offers in-the-know secrets and off-the-beaten path recommendations, featuring art galleries, hiking trails, national parks, fishing villages, and more. You'll also discover favorites from Irish luminaries who know their country best, as well as recipes—from soda bread to Irish stew—to bring the tastes of Ireland into your home kitchen.
Both beautiful and enlightening, this one-of-a-kind guide will allow you to experience Ireland as the locals do!
Released

Pages

ISBN

Age Range