Food Journeys of a Lifetime, 2nd Edition
500 Extraordinary Places to Eat Around the Globe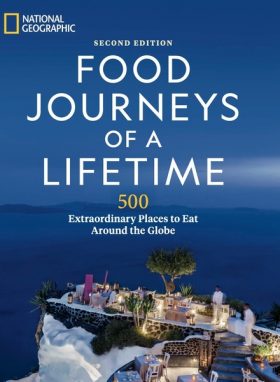 Few experiences are as satisfying as a chance to explore the world through food. Compiled from the expert travel writers at National Geographic, Food Journeys of a Lifetime scours the globe for the world's best dishes, markets, and restaurants that are worth traveling far and wide to savor.
In this fully revised and updated edition, find the best of the best, including:
Tokyo's famed fish market and its 226 Michelin-starred restaurants–the most of any city in the world
The ultimate Philly cheesesteak from the city of brotherly love
The perfect cup of tea in China
The spice markets of Marrakech
The juiciest cuts of beef in Argentina
The freshest pasta in Italy
And the ultimate Swiss wine route
Featuring more than 60 new bites and destinations, this book is the key to building a foodie traveler's ultimate bucket list. Within the flavors and tastes of every cuisine, you'll find unique stories about the places, cultures, climates, and chefs that produce these extraordinary dishes. A wide selection of recipes invite you to try new cooking techniques and obtain flavors from abroad at home; top 10 lists offer side trips from chocolate factories to champagne bars.
Filled with a dazzling array of diverse recommendations, each page of this inspiring book will make your mouth water–and spur your next gourmet vacation.
Released

Pages

ISBN

Age Range