It All Started With An Orange Basketball
The Proud Family: Louder and Prouder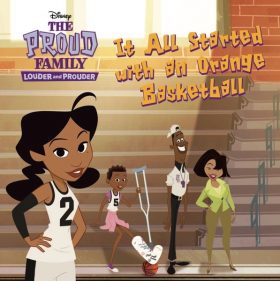 The Proud Family: Louder and Prouder is back with the new hilarious and heartfelt adventures of the Proud Family. FollowPenny Proud and her family: parents Oscar and Trudy, twin siblings BeBe and CeCe, and grandmother Suga Mama as they navigate contemporary issues written against themes of diversity and inclusion.
In this 24-page storybook, Penny must choose between her crush, Kareem, and her dad, Oscar, after Oscar begs Penny to join his basketball team, the Proud Snackers, so he can win the championship game and a bet he made with a rival coach.
Readers will explore themes of honesty, setting boundaries, and being true to yourself.
Released

Pages

ISBN

Age Range